I and my partner got married in February 2020. Between mountains and beaches, we agreed upon beaches as our honeymoon destination. After considering all options while surfing on the internet, we both agreed on Andaman and Nicobar Group.
On checking the pictures of that place, we were mesmerized and surprised that India has an island group that beats the beauty of most of the renowned foreign countries. We found Havelock as the most beautiful island in this group. The pristine turquoise water of Radhanagar Beach lined with lush green forest and premium water sport activities on Elephant Beach with jungle treks and exquisite coral life offers a refreshing experience in the natural habitat.
Even if one is not interested in water sports, he or she can enjoy the luxurious resorts along the beachside and have a serene experience of the sea waters. Havelock has now been named as "Swaraj Dweep" Island.
Best Time To Visit
November-March
Places visited
We started our journey by taking a flight to Port Blair. From the Veer Savarkar International Airport, we headed to Phoenix Bay Jetty to reach Havelock Island through Makruzz Ferry. I was very excited to use the ferry as I have never been to one. The ferry is pretty close to the airport and can be reached through any commercial vehicle. We completed the check-in formalities. After that, we walked towards the ferry. Luggage was loaded separately and we ensured to tag our names to avoid confusion while traveling.
The journey through the ferry was full of excitement. The best part was window seats where one can enjoy the motion of the waves. The interiors are designed more like a flight except for water instead of clouds outside the window:D. It is fully airconditioned, has televisions to watch recorded programs, a café to supply snacks, pastries, and beverages. One could easily wander in the Ferry without having to worry about any kind of turbulence.
After about one and a half hours, we reached Havelock Jetty. We checked into Hotel Seashells which had its private beach.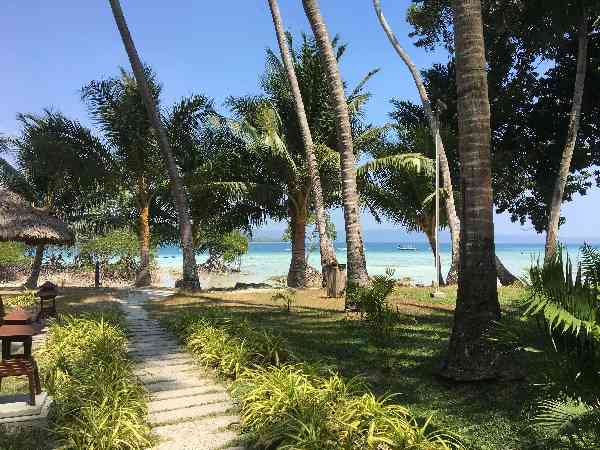 Day 1: Radhanagar Beach
We started our Day 1 by visiting Radhanagar Beach which is the Seventh Best Beaches in the world and its beauty is such that you might wonder how can there be any beach better than this. Radhanagar Beach has both beauty of the beach and lush green forest.
One can swim, enjoy the rushing waves, walk with the loved ones, and enjoy the sunset and take shed in the lush greenery. We had also booked a photographer from VsnapU to get our best moments captured in the best beach of South-Asia.

The funny part of this beach is the care-taker of the restroom. One can easily use the restroom and changing room and also avail locker facilities. One has to pay a nominal price of Rs.10/20 to use the restroom and the caretaker keeps yelling "Joota Chappal Dho ke Jaiye" which means clean your footwear with water before using the restroom. I am sure you will laugh when you pay a visit next time when you meet that man who keeps cleaning after every visitor.

In case you get hungry, fruits and snacks are available outside the beach though things are pretty expensive, we preferred to help them in their small business and me encourage you to do the same.

I would love to share the best moments spent there through the perfect shots taken by VsnapU at the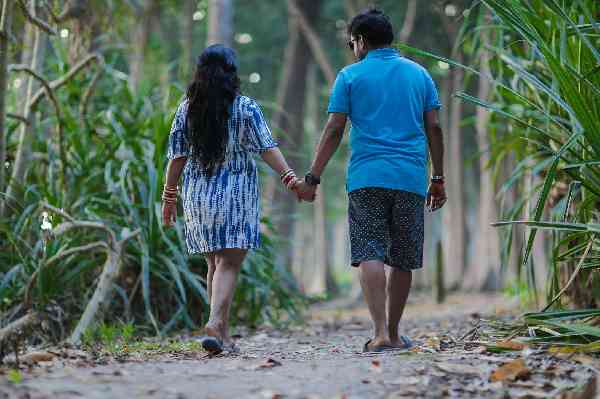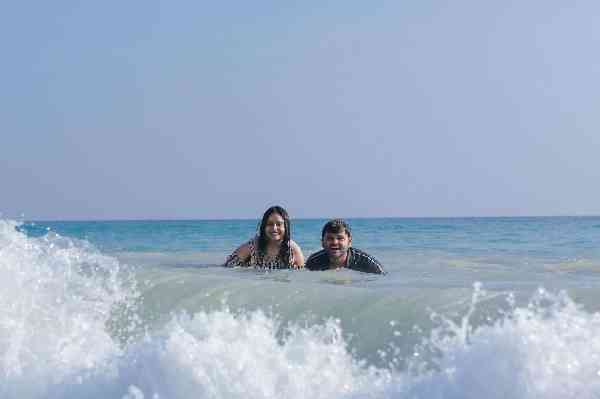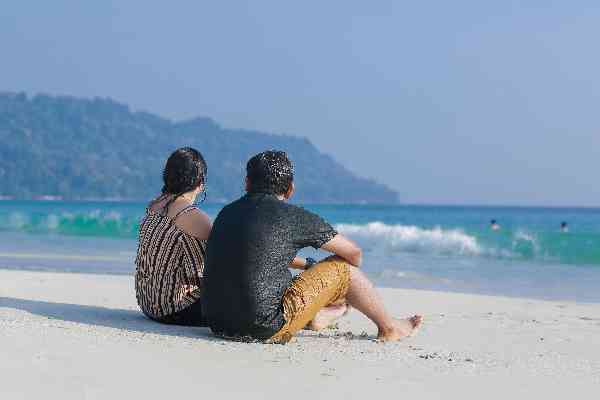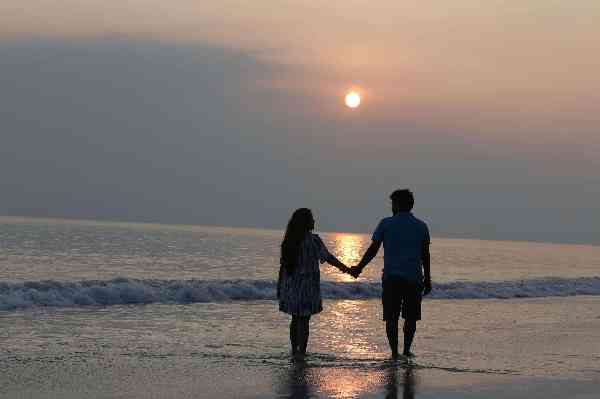 At around 06: 00 P.M. we went back to Hotel Seashells.
---
Day 2: Elephant Beach

We went through a speed boat. One has to remember its boat name and would be called by not its name but boat name while returning. The Beach has a mobile network issue so take care when the boatman calls you as the Beach closes by 03:30 P.M. I remember our boat name was "Sri".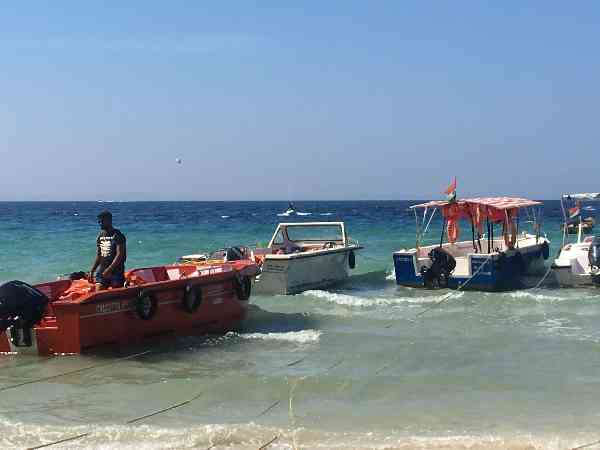 Elephant Beach is renowned for its premium watersports activities. I thoroughly enjoyed scuba diving and snorkeling at Elephant Beach with my partner. All activities are done under the supervision of professional trainers and you don't need to worry even if you don't know swimming.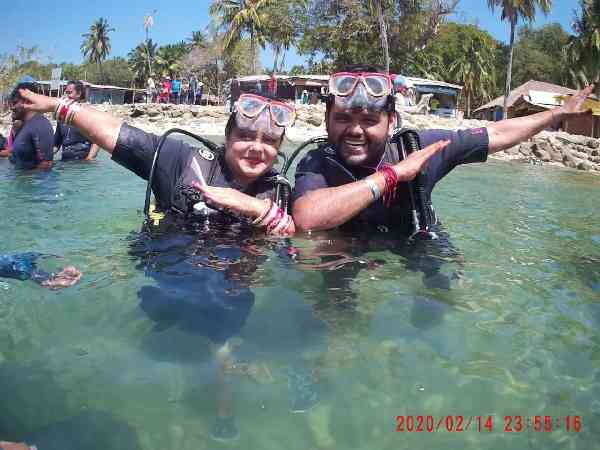 Scuba is the best way to witness the vibrant marine life of Havelock Island. The captivating views of beautiful and colorful fish, swimming around the stunning corals will surely make you gather moments to add to the album of life. If you are not a fan of going underwater then you can go for a glass-bottom boat ride, Jet Ski or Banana Boat rides.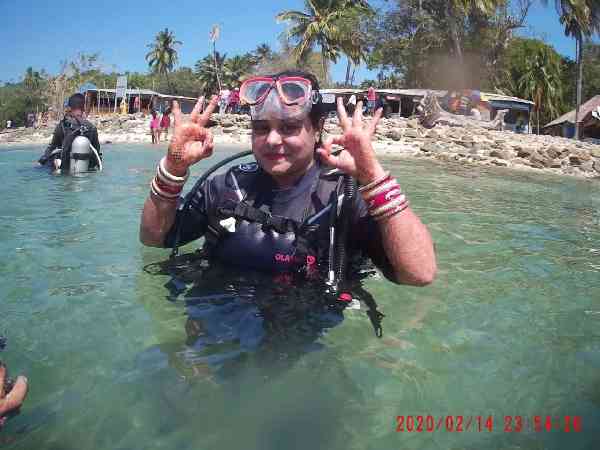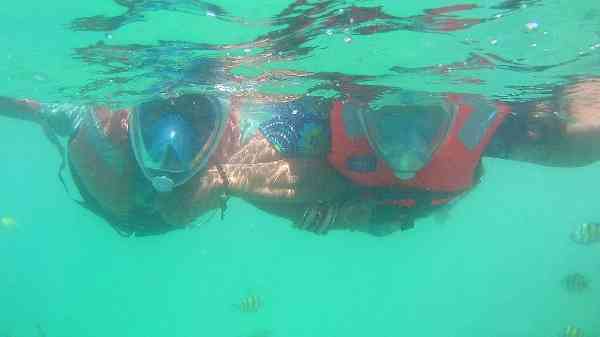 Snorkeling is a complementary activity with the boat tickets to Elephant Beach. Deep-sea snorkeling is however chargeable. Price varies for all activities and has to be paid in cash instantly. Do not register for too many activities as you won't have enough time to stay on the Beach.

Shacks have been set up to provide refreshments, fruits, and coconut water.
Transportation
1. Reach Port Blair by air
Havelock Island doesn't have an airport of its own. One can reach Port Blair by air from various cities. Most of the flights are scheduled for the morning. Port Blair Aiport is also called Veer Savarkar International Airport.
2. Take a Ferry from Port Blair to Havelock Island.
From Airport take an auto/hired car to Phoenix Bay Jetty which is pretty close to the airport. From the Jetty, one has to take a ferry. There are both Government and Private Ferry. The latter one is expensive. Seaplane is also available with seating arrangements for eight guests and offers exciting aerial views of Island landscapes but is a bit expensive. The Government Ferrys are pretty good. All bookings have to be made in advance. Schedule of the two Government Ferrys are given below:
Schedule for Green OceanBoardingArrivalDuration 6:00 AM8:00 AM2 hours6:30 AM9:00 AM2 hours 30min12:15 PM2:15 PM2 hours12:30 AM2:45 AM2 hours 15min
Starting Price RefreshmentsSeaviewEconomy- Rs. 1044/-Not servedNot available in Economy ClassLuxury- Rs. 1103/-Not served Available Royale-Rs. 1692/-Not served Available

Schedule for Makruzz
| | | |
| --- | --- | --- |
| Boarding | Arrival | Duration |
| 7:15 AM | 8:45 AM | 1 hour 30 min |
| 8:00 AM | 9:30 AM | 1 hour 30 min |
| 2:00 PM | 3:30 PM | 1 hour 30 min |
| | | |
| --- | --- | --- |
| Starting Price | Refreshments | Seaview |
| Economy- Rs. 1457/- | Purchase from Mak Café | Available |
| Luxury- Rs. 2008/- | Refreshments served. | Available |
| Royale-Rs. 3218/- | Refreshments served. | Available |
We made our bookings for Makruzz and reached the Jetty through a hired car. The experience from Ferry is a fantastic one with clean and air-conditioned cabins, cafe, window-side Seaview, arrangement for luggage. Don't forget to properly tag your luggage as the same are boarded separately.
3. Havelock Island to Elephant Beach/ Radhanagar Beach and other beaches like Kalapathar Beach, Vijaynagar Beach and Govind Nagar Beach
Check into the hotel and use any commercial vehicle like speed boat/auto/ hired two-wheeler or four-wheeler/trekking hill to reach the beaches. The best experience is definitely through a speed boat.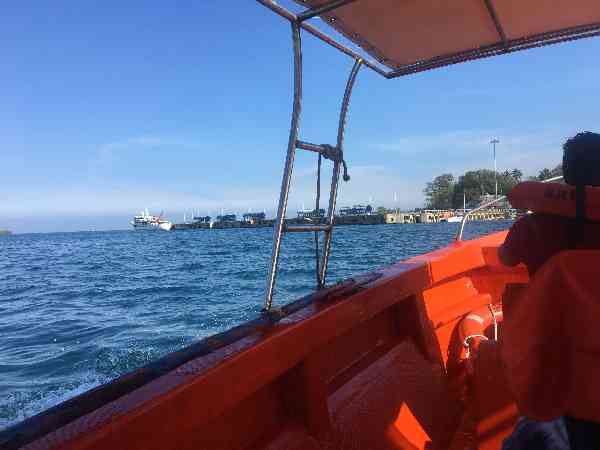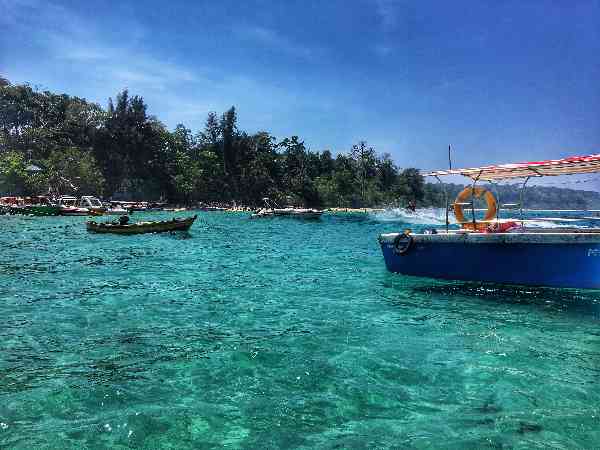 Pro-tips
Traveler's Tips
Mobile connectivity is an issue on this island, so make all bookings in advance.
Keep the tickets handy. Wifi available in hotels also do not work sometimes.
Carry cash as you may not be able to use your debit/credit cards.
As one will be indulged in water activities, do not forget to carry medicines. No medical shops are available on this island.
Carry a water bottle wherever you go. Though coconut water is available after every short distance to keep you hydrated.
Visit the beach as per the timings so make sure you plan in advance. Elephant beach closes around 03: 00 P.M. while Radhanagar Beach remains open till 06:00 P.M.
Carry a bath towel, an extra pair of clothes, a swimming costume, a pair of flip-flops, sunscreen lotion, a hat, sanitizer, and shades. There are changing rooms and washrooms available on the beaches. Comfortable footwear is an added advantage.
People here are very friendly and welcoming. They try the best to keep the beaches pollution-free and the same is expected by us.
Author Bio –
Ridhi loves trying out new foods, seeing iconic landmarks, meeting lots of people, and of course, has a huge sense of adventure. Traveling is one of the best ways to fulfill her need for adventure because so many activities can be considered "adventurous." Trying out new foods, skydiving, water sports, cultural clothing and salsa dancing in the street can all be considered adventurous parts of her travels. The most fascinating place for her are the beaches. The crystal clear water, roaring waves and lush green forest by the beach is the place where she finds herself at serene.